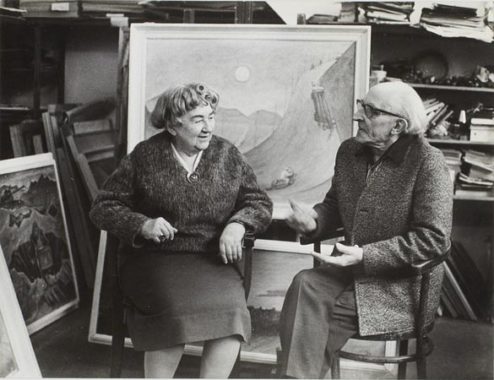 Nerlinger Oskar
(English)
1893 Schwann (Germany) – east Berlin 1969, is a painter, a draughtsman and a commercial artist, who worked later in the GDR. He worked also under the alias Nilgreen.
Nerlinger predominantly worked since 1912 in Berlin and created in the 20's industrial landscapes. 1925 he was leader of the group "the abstract ones", which renamed itself later into "the up-to-date ones". For the 30's Nerlinger under the influence of East Asian painting made brightly sounded landscape water colors. It represented the 1949 following the Soviet cultural policy to GDR statesmanship raised socialist realism.
It learned at the Strassburger college of arts and crafts from 1908 to 1912. Vo on 1912 until 1915, he was pupil of Emil Orlik andEmil Rudolf white at the teaching institute of the museum of arts and crafts Berlin. 1921 it follows the storm . Starting from 1925 it is then the head of the group the abstract ones (later the up-to-date ones). 1928 it joins the communist party of Germany, the KPD. After the seizure of power of the Nazis 1933 an exhibition prohibition is given to him. After the end of war 1945 it is active until 1951 as a professor at the university for screen end art, Berlin Charlottenburg. With Karl Hofer it brings the magazine out screen end art during 1947 to 1949 . 1955 he becomes a professor at the academy of art Berlin white lake, where he works until 1958.
---