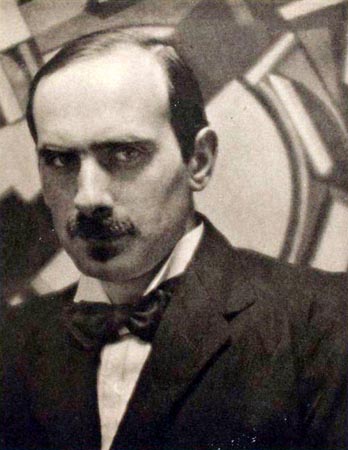 Wadsworth Edward Alexander
(English)
(b Cleckheaton, Yorkshire, 29 Oct. 1889; d London, 21 June 1949). British painter, printmaker, draughtsman, and designer. A friend of Wyndham Lewis, he was a member of the Vorticist group (1914–15); his work of this time included completely abstract pictures such as the stridently geometrical Abstract Composition (1915, Tate, London). In the First World War he worked on designing dazzle camouflage for ships, turning his harsh Vorticist style to practical use.
This experience provided the subject for one of his best-known paintings, the huge Dazzle-Ships in Drydock at Liverpool (1919, NG, Ottawa). The lucidity and precision seen here were enhanced when Wadsworth switched from oil painting to tempera in about 1922. At the same time his style changed, as he abandoned Cubist leanings for a more naturalistic idiom. He had a passion for the sea and often painted maritime subjects, developing a distinctive type of highly composed marine still life, typically with a Surrealistic flavour (Satellitium, 1932, Castle Mus., Nottingham). In the 1920s and 1930s he was among the most European in spirit of British artists. He travelled widely on the Continent and in 1933 contributed to the Paris journal Abstraction-Création. In the same year he was a founder member of Unit One. Around this time he again painted abstracts (influenced by Arp), but he reverted to his more naturalistic style in 1934. During the 1930s he had several commissions for murals, notably two panels for the liner Queen Mary in 1938. As a graphic artist he is best known for his vigorous, angular woodcuts of ships and machinery, which played a part in the revival of the technique after the First World War. For an artist, Wadsworth was 'unusually businesslike, answering letters by return of post and punctiliously fulfilling his commissions' (DNB), but he has been aptly described by Sir John Rothenstein as 'a true poet of the age of machines'.
---