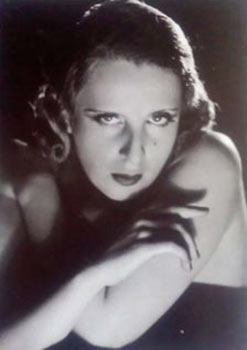 De Lempicka Tamara
(English)
Tamara de Lempicka (Poland, 1898 – Mexico, 1980) is an important exponent of Art Deco, the most characteristic movement of the time, marked by the aesthetics of the 20s with its geometric motifs, bright colors and resounding forms: art deco. A classic, symmetrical and rectilinear style that reached its peak between 1925 and 1935, but which has its roots in previous movements such as Cubism and Futurism, as well as in the influence of the Bauhaus. Lempicka was one of its most prominent representatives in the field of plastic arts, for which she proposed a whole revolution. Her main genres are nudes and portraits, and in her work one can appreciate the love of authors such as Ingres, Botticelli or Mannerism.
Her works portray the wealthy bourgeoisie of the time and the progressive decline of the aristocracy. In 1918, fleeing from the political instability of Poland following the military uprising of the Poles against Germany and Russia, Tamara settled in Paris with her husband, Tadeusz Lempicki, where their only daughter, Kizette, was born. They moved to Rue Méchain, to a duplex decorated by her sister, who is an architect. It is she, her sister, who encouraged Tamara to devote herself to painting as a profession. In this way, this Parisian duplex became her house-studio and so she began her path in the world of painting, becoming an internationally recognized woman, independent, protagonist and advanced to her time. This caused her husband to fall into depression and in 1929 they ended up getting divorced.
Her life served as inspiration for her paintings; her defense of hedonism, orgies, cocaine and bisexuality allowed the artist to illustrate in detail the life of the Parisian bourgeoisie. Based on figurativism and influenced by the Italian Quattrocento, she managed to configure her own style, which today has impregnated the world of advertising and cinema. Already in the early 1920s her works appeared in the salons of Paris, such as the Salon d'Automne and the Salon des Tuileries.
In the summer of 1932, the artist spent a long time in Spain, traveling to Malaga, Seville, Cordoba, Toledo and Madrid, as documented by some ecstatic articles signed by Spanish critics of the moment. Acclaimed as a diva, admired for her art characterized by a clear and refined language, described as an example of beauty and elegance, Tamara de Lempicka always underlined her interest in El Greco and Goya, whom she studied diligently in long sessions in Spanish museums.
---
---
(Spanish)
Varsovia (Polonia) 1898 – Cuernavaca (México) 1980. Tamara de Lempicka También conocida como Tamara Łempicka (pronunciado Uempitsca), nacida Maria Gurwik-Górska, nació en el seno de una familia acaudalada, siendo desde pequeña una niña autoritaria y con carácter. Su padre fue un abogado judío de origen ruso que trabajaba para una comercializadora francesa llamado Boris Gurwik-Górski y su madre Malwina Dekler, una socialité polaca. Fue la segunda de tres hijos y asistió a un internado en Lausana, Suiza. En 1910 pinta un retrato de su hermana que sería su primer trabajo. María pasó el invierno de 1911 con su abuela en Italia, viaje en el que descubre su pasión por el arte.
En 1912 sus padres se divorcian y María se muda a San Petersburgo, Rusia con su tía Stefa, una mujer bien acomodada en la sociedad rusa. Cuando su madre se casa por segunda vez, ella decide vivir por su propia cuenta y pronto encuentra al hombre con el que se casaría. Gracias a los contactos de su tío conoce al abogado polaco Tadeusz Łempicki (1888-1951) en 1916 y contrae nupcias con él, en San Petersburgo llevando una vida lujosa hasta que estalló la Revolución de octubre.
Tadeusz fue encarcelado por los bolcheviques, María tuvo que buscarlo en varias cárceles y con la ayuda del cónsul sueco logra sacarlo de prisión para trasladarse a Copenhague. Posteriormente se mudan a Londres y finalmente a París, a donde también la familia de María escapó.
En 1923 se establecen en París donde nació su única hija, Kizette. Tamara ya con un nuevo nombre y en calidad de refugiada tomó clases de pintura con Maurice Deni's en la Académie Ranson y con André Lhote en la Academié de la Grande Chaumière, quienes influenciaron su trabajo. Su estilo que a menudo se identifica como "cubismo suave" empezó a cobrar popularidad a partir de 1922, año en que empezó a exhibir su trabajo aunque no aparecía como mujer en los catálogos.
En 1925 presentó su primera exposición en Milán, Italia, abajo su propio nombre y apoyada por el Conde Emmanuele Castelbarco. Para ello, Lempicka pintó 28 trabajos nuevos en seis meses, un esfuerzo supremo considerando que cada retrato le tomaba cerca de tres semanas de trabajo.
En 1927, su cuadro Kizette en el balcón la hace acreedora de su primer premio, un diploma de honor en la Exposición Internacional de Burdeos. En 1929 se divorcia de Tadeusz, ese es el año en que pinta uno de sus trabajos más famosos "Autorretrato en un Bugati verde", en esta obra, Tamara de Lempicka recuerda la trágica muerte de la bailarina estadounidense Isadora Duncan que murió estrangulada en 1927, cuando su largo chal se enreda en una de las ruedas posteriores de su Bugatti.
Ese mismo año conoce al barón húngaro Raoul Kuffner de Diószegh (1886-1961), un coleccionista de su obra con quien viaja a Estados Unidos. En 1933, Tamara acepta casarse con el barón aunque no oculta su orientación bisexual. Al poco tiempo se hace famosa entre la burguesía neoyorquina y expone en varias galerías estadounidenses y europeas. En 1933 viaja temporalmente a Chicago donde trabaja con Willem de Kooning y Georgia O'Keeffe. En 1938 se van a vivir a Beverly Hills.
En 1941 Kizette escapa de París bajo ocupación nazi y se va a vivir con su madre a Estados Unidos donde rehace su vida.  En 1960, Tamara cambia de estilo, pasándose al abstraccionismo. En 1962 muere su esposo y en 1978 ella decide mudarse a Cuernavaca, México.
El 18 de marzo de 1980, Tamara de Lempicka muere en Cuernavaca (México) mientras dormía. Kizette, complaciendo el sueño de su madre, acompañada del escultor mexicano Víctor Manuel Contreras (heredero de gran cantidad de las obras de la pintora), subió a un helicóptero y arrojó las cenizas de Tamara en el cráter del volcán Popocatépetl.