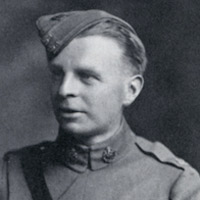 Power Cyril Edward
Chelsea (England) 1872 – London 1951, was an English artist.
Cyril Edward Power was born on 17 December 1872 in Redcliffe Street, Chelsea, the eldest child of Edward William Power who encouraged him to draw from an early age. This passion led to him studying architecture and working in his father's office before being awarded the Sloane Medallion by the Royal Institute of British Architects in 1900 for his design for an art school.
In August 1904 Power married Dorothy Mary Nunn in Bury St Edmunds, Suffolk, shortly afterward moving to Putney in London where they had a son, Edward Raymond Roper-Power, the following year (Power added his mother's maiden name to his own after his father left home though rarely used his full name). Power worked as an architect at the Ministry of Works under Sir Richard Allington and was involved with the design and construction of the General Post Office, King Edward VII Building and also the Post Office at the corner of Exhibition Road and Imperial College, Kensington, London.
In 1908 the family moved to Catford where their second son Cyril Arthur Power was born. It was around this time that Power became lecturer of Architectural Design and History at the School of Architecture, University College, London (now called the Bartlett School of Architecture) under Professor Simpson and also at Goldsmith's College, New Cross, London.
This led to the publication of his three-volume work: A History of English Mediaeval Architecture by the Talbot Press in 1912 which featured 424 of his own ink and pen illustrations and detailed designs.
The outbreak of the First World War saw the birth of his daughter, Joan Margaret Roper-Power, and his commissioning into the Royal Flying Corps and management of the repair workshops at Lympne Aerodrome on the Kent coast. Power also designed and executed a War Memorial for the Great Western Railway at Paddington, London around this time.
After demobilisation the family moved to Bury St Edmunds where Power recommenced his architectural practice which included design alterations and additions to Chadacre Hall Agricultural College for Lord Iveagh and the beginning of his move into creating artwork.
During the early 1920s Power was producing watercolour landscapes and townscapes as well as the first of some 40 drypoints. The birth of his youngest son Edmund in December, 1921 coincided with his first meeting with Sybil Andrews, with whom he maintained a close and somewhat informal working relationship which lasted some 20 years. Shortly after their first joint exhibition in Bury St Edmunds the family moved to St Albans, Hertfordshire.
1929 saw Claude Flight and his associates mount the first exhibition of British linocuts in June at the Redfern Gallery, London. A series of exhibitions were held annually both there and at the Ward Gallery. Further exhibitions were arranged by Flight and traveled to the United States Of America, Australia and China.
The success of these exhibitions led to a commission by Frank Pick, the Deputy Chairman of the Underground Electric Railways Company of London to design a series of posters. These were produced as chromolithography and were based on the theme of sporting venues reached via the London Underground system and lead to further sporting posters which became stylistically influential on other artists of the era.
In 1930 Power was elected member of the Royal Society of British Artists and established a studio with Andrews in Hammersmith close to the River Thames, a location which inspired many prints by both artists, most notably 'The Eight' by Power and 'Bringing in the Boat' by Sybil Andrews.
During the last year of his life Power completed some eighty-nine oil paintings, a format he had grown increasingly fond of in the preceding years. These were mainly landscapes of the surrounding areas, often Helford River and the Falmouth area of Cornwall as well as some floral studies. He died in London in May 1951, aged seventy-eight.
---