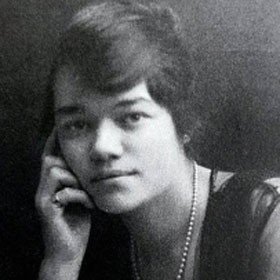 Andrews Sybil
(English)
19 April 1898 – 21 December 1992, was an English printmaker best known for her modernist linocuts.
Born in 1898 in Bury St Edmunds, Sybil Andrews was unable to attend art school after finishing secondary school as her family lacked the funds to pay for tuition. Andrews first apprenticed as a welder and worked at an aeroplane factory during World War I, where she helped in the development of the first all-metal aeroplane for the Bristol Welding Company.
During this period she took an art correspondence course and after the war returned to Bury St Edmunds where she was employed as an art teacher at Portland House School. She continued to practice art and met architect Cyril Power, who became a mentor figure, and then her partner until 1938.
Between 1922-24 Andrews attended Heatherley's School of Fine Art in London.
In 1925 she was employed by Iain Macnab as the first secretary of The Grosvenor School of Modern Art, where she also attended Claude Flight's linocutting classes.
She began producing linocuts c. 1926 and one of her earliest prints Limehouse is in the British Museum Collection. Between 1928 and 1938 she exhibited linocuts extensively through shows organised by Flight.
With the beginning of World War II, Andrews resumed work as a welder for the British Power Company, constructing warships. Seven of Andrews' wartime depictions of ships are in the collection of the Royal Airforce Museum. Here she met Walter Morgan, whom she married in 1943.
---