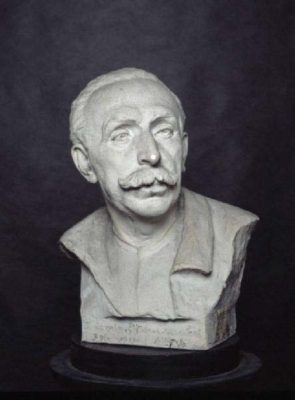 Cavaleri Ludovico
Ludovico Cavaleri nacque a Milano il 15 novembre 1867.
Interruppe gli studi di medicina per dedicarsi alla pittura, che approfondì da autodidatta trattando l'olio, l'acquaforte e l'affresco. Si dedicò particolarmente al paesaggio ed alla marina, trattati dal vero, con una naturale propensione per i colori accesi, che incontrarono buon consenso di critica e collezionismo.

Alla Mostra del 1893, promossa dalla Società delle Belle Arti di Milano, vinse la medaglia d'oro. Partecipò inoltre ad esposizioni a Venezia, Torino, Monaco, Barcellona, Montevideo e San Paolo, ottenendo diversi premi. Realizzò anche decorazioni murali e disegni per cartelloni pubblicitari. Professore onorario all'Accademia di Carrara, socio onorario dell'Accademia di Brera, Professore emerito all'Accademia di Perugia, si spense a Cento il 2 gennaio 1942.
Tra le sue opere ricordiamo: Piena d'autunno; Presso il mulino; Tramonto alla Giudecca; Mareggiata; La pesca dei granchietti; Barche da carbone; Piena d'autunno; Niviale; Erica in fiore; Autunno; Tramonto; A San Rossore; Neve settembrina; Silenzio mistico; Paesaggio.
---
---
(English)
Ludovico Cavaleri (1867–1942) was an Italian painter.
He was born in Milan. A self-taught member of the school of Lombard Naturalism in its last stages, Cavalieri abandoned his medical studies in 1888 to devote himself exclusively to painting. Having begun to specialise in seascapes under the influence of his contemporaries Pompeo Mariani and Giorgio Belloni in 1890, he later adopted the anti-naturalistic approach characteristic of the turn of the century, possibly as a result of his friendship with the Symbolist poet Gian Pietro Lucini. In addition to his large output of paintings, he also worked as an illustrator and commercial artist. A regular participant in the major exhibitions, he achieved considerable success on the art market and a number of official awards, including a gold medal at the International Exhibition of Munich in 1902. The prestigious Galleria Pesaro hosted two solo shows of the artist's work, one in 1918 and the other in 1935. He died in Cuvio, Varese, in 1942.