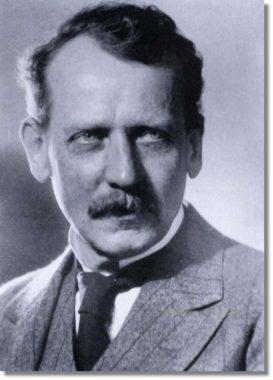 Bluemner Oscar Florianus
(English)
Oscar Bluemner (June 21, 1867 – January 12, 1938), born Friedrich Julius Oskar Blümner and after 1933 known as Oscar Florianus Bluemner, was a German-born American Modernist painter.
Bluemner was born as Friedrich Julius Oskar Blümner in Prenzlau, Germany, on June 21, 1867. He studied painting and architecture at the Royal Academy of Design in Berlin.
In 1908 Bluemner met Alfred Stieglitz, who introduced him to the artistic innovations of the European and American avant-garde. By 1910, Bluemner had decided to pursue painting full-time rather than architecture.
He exhibited in the 1913 Armory Show. He said that the Americans' contribution failed to match that of the Europeans because the American selection process reflected rivalries and compromises rather than curatorial judgment, resulting in a "melée of antagonistic examples". Then in 1915 Stieglitz gave him a solo exhibition at his gallery, 291. Despite participating in several exhibitions, including solo shows, for the next ten years Bluemner failed to sell many paintings and lived with his family in near poverty.
He created paintings for the Federal Arts Project in the 1930s.
---
---
(Spanish)
Hanover, Alemania 1867 – 1938, fue un pintor modernista estadounidense nacido en Alemania.
Nació en Hanover, Alemania. En 1893 se trasladó a Chicago donde trabajó como independiente y dibujante en la Exposición Universal de Chicago. Tras la exposición buscó infructuosamente empleo en la ciudad y en Nueva York. En 1903 su suerte cambió cuando su diseño fue escogido para el Bronx Borough Courthouse de Nueva York.
Bluemner se instaló en Nueva York en 1901. En 1908 conoció a Alfred Stieglitz, quien le presentó otros artistas estadounidenses y europeos, principalmente de vanguardia.
Hacia 1910 decidió dedicarse por completo a la pintura, en detrimento de la arquitectura.
Exhibió en 1913 en el Armory Show. En 1915 expuso en la galería 291, de Stieglitz .
Pese a participar en varias exposiciones, incluyendo algunas en solitario, durante los próximos años vendió muy pocas obras y vivió casi en la pobreza.
Tras el deceso de su esposa en 1926, se instaló en Braintree, en el estado de Massachusetts.
El 12 de enero de 1938 se suicidó.