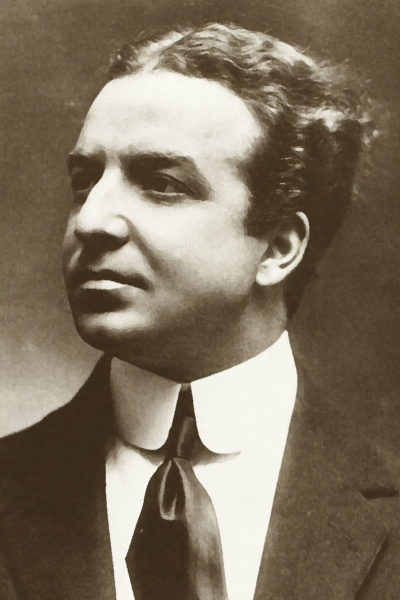 Palazzeschi Aldo
Palazzéschi, Aldo. – Pseudonimo dello scrittore Aldo Giurlani (Firenze 1885 – Roma 1974). P. ha manifestato il suo estro funambolesco fin dall'esordio come poeta crepuscolare e nell'effimera adesione al futurismo. Ha attraversato l'esperienza dell'avanguardia di inizio secolo, quella del «ritorno all'ordine» degli anni Venti e in seguito la ripresa sperimentale delle avanguardie degli anni Sessanta con una sua inconfondibile giocondità, enigmatica e inafferabile, attraverso la quale ha tratto alla luce sproporzioni e incongruità, in un'irridente distruzione dei rapporti normali tra le cose.
VITA
Si dedicò alla letteratura dopo aver frequentato una scuola di recitazione inisieme a Moretti di cui divenne grande amico e assunse lo pseudonimo di Palazzeschi dal cognome della nonna. Dopo essere stato costretto, durante la guerra, all'esperienza militare, visse nel dopoguerra una vita appartata e solitaria, rimanendo estraneo al fascismo e impegnandosi soprattutto in un'attività di narratore, che gli guadagnò i favori del pubblico. Collaborò dal 1926 al Corriere della sera. Visse a Firenze fino al 1950, anno in cui si trasferì a Roma. Nel 1957 gli fu consegnato dall'Accademia dei Lincei il premio internazionale Feltrinelli per la letteraturra; nel 1960 gli venne conferita dall'università di Padova la laurea in lettere honoris causa.
OPERE
Esordì come poeta crepuscolare (I cavalli bianchi, 1905; Lanterna, 1907; Poemi, 1909), di una malinconia venata non tanto di ironia quanto di un estro funambolesco. Effimera fu la sua adesione al futurismo (L'incendiario, 1910; 2a ed. ampliata 1913). Ma poiché l'intimo ritmo dei suoi versi (cfr. la raccolta completa delle Poesie, 1925; ed. definitiva 1930) era narrativo, P. ben presto trovò più adeguata espressione nella prosa di racconti e romanzi: la quale, d'altro canto, da quella ancor diafana di Riflessi (1908; poi raccolto, insieme ai successivi Il codice di Perelà e La piramide, con il tit. Allegoria di novembre, in Romanzi straordinari, 1943) e Il codice di Perelà (1911; nuova ed., col tit. Perelà uomo di fumo, 1954), a quella narrativamente più nutrita e complessa delle opere successive (Il re bello, 1921; La piramide, 1926; Stampe dell'800, 1932; Sorelle Materassi, il suo libro più famoso, 1934; Il palio dei buffi, 1936; I fratelli Cuccoli, 1948; Bestie del '900, 1951; Roma, 1953; Il buffo integrale, 1966; Il doge, 1967; Stefanino, 1969; Storia di un'amicizia, 1971), recherà sempre come la filigrana di quei versi, essendo similmente intessuta di dialoghi, filastrocche, cavatine, e attenta ai valori di suono, asintattica e anacolutica per «magia» di stile. La narrativa di P., movendo da un bozzettismo toscano e ottocentesco, di un realismo crudo e un po' becero, giunge – non senza, certo, virtuosismi e artifici – a una leggerezza verbale e musicale da opera buffa: dove quel realismo si contempera col surrealismo di uno spirito caricaturale che, anche quando sembra voler pungere, è pieno di pietà e cristiana carità per quei singolari personaggi, a mezzo fra la «pura follia» di una vita fantastica e la tristezza, e tristizia, della comune esistenza. Altre opere di P.: Due imperi… mancati (1920), ispirata da sue personali esperienze della prima guerra mondiale; Tre imperi… mancati (1945), relativa alla seconda guerra mondiale e al fascismo, di cui egli fu costante avversario; Scherzi di gioventù (1956), raccolta di pagine giovanili; Ieri, oggi e… non domani (1967), che riunisce i suoi elzeviri; e una serie di poesie «della vecchiaia» (Viaggio sentimentale, 1955; Cuor mio, 1968; Via delle cento stelle, 1972), vivide peraltro – come i racconti di questo stesso periodo – di un'inventiva e di una comunicativa in cui si è più che mai acuito quell'amoroso attaccamento del poeta alla vita, al flusso esistenziale pur così pieno di dolore. Rinvenuto tra le carte del Fondo P. (donate alla Facoltà di lettere dell'univ. di Firenze), è stato pubblicato nel 1988 il romanzo Interrogatorio della contessa Maria, vivace ritratto di un anticonformistico personaggio femminile, scritto forse prima del 1915.

Palazzeschi Aldo
---
(English)
Aldo Palazzeschi 2 February 1885 – 17 August 1974 was the pen name of Aldo Giurlani, an Italian novelist, poet, journalist and essayist.
He was born in Florence to a well-off, bourgeois family. Following his father's direction he studied accounting but gave up that pursuit as he became enamored with the theater and acting. Respectful of his father's wishes that the family name not be associated with acting, he chose his maternal grandmother's surname Palazzeschi as a pseudonym.
His family's comfortable economic stature provided him with finances to published his first book of poetry, I cavalli bianchi (in English, The White Horses) in 1905 under the pen name Palazzeschi.
After meeting Filippo Tommaso Marinetti, he became a fervent Futurist. However, he was never entirely ideologically aligned with the movement and had a falling out with the group over Italy's involvement in World War I which he opposed, even though he did spend a brief period at the front lines after having been inducted into the military in 1916. His "futurist period" (roughly the 1910s) was a very fecund time in which he published a series of works that cemented his reputation. Most notable of these is his novel Il codice di Perelà (translated into English as Man of Smoke) published in 1911. Marinetti used to give away more copies of the Futurist books he published than those he sold, and Palazzeschi later recalled that in 1909, so many copies of one of his books were given away that even he failed to secure a copy.
During the interwar years, his poetical production decreased, as he became involved in journalism and other pursuits. He took no part in the official culture of the Fascist regime, but he found himself working in various magazines that did. Some of those were: Pegaso, Pan, (directed by Ugo Ojetti) and Il Selvaggio. (directed by Mino Maccari)
In the late sixties and early seventies he started publishing again, with a series of novels that resecured his place in the new, post-war avant-garde. He died in 1974 in his apartment in Rome.
Today he is often considered an important influence on later Italian writers, especially those of the neoavanguardia in both prose and verse. His work is well noted by its "grotesque and fantastic elements.
---