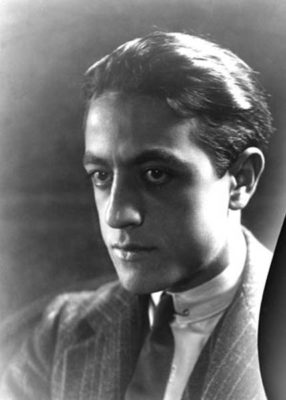 Conti Primo
Primo Conti nasce a Firenze con l'inizio del secolo il 16 ottobre 1900. La sua vita sarà segnata dalla precocità con cui si esprime, già tra gli otto e i dieci anni, nel campo della musica, della poesia e della pittura con talento geniale, poi, nel 1913, dall'incontro con i futuristi. L'impulso verso l'innovazione assume forme già compiutamente futuriste nei disegni, mentre nella pittura lavora ad un inedito incrocio tra secessione, fauvismo, espressionismo ed orfismo. Solo nel 1917, dopo l'incontro con Balla, a Roma e a Napoli, con Marinetti che gli conferma entusiasta l'apprezzamento per il volume Imbottigliature che sta per dare alle stampe, Conti entra definitivamente nel movimento futurista.
Ad esse darà il suo contributo fondamentale, non solo con l'opera letteraria, ma con i magnifici dipinti e disegni eseguiti tra il 1917 e il 1919, anno in cui la sua pittura evolve già in direzione metafisica. Gli Anni Venti sono particolarmente complessi per Conti, che interseca manierismo, esotismo, esoterismo, grande pittura di storia e religiosa, tracciando un arco vasto quanto lo è la sua curiosità nel mondo dello spettacolo e di quello letterario di Pirandello, Bontempelli e Pea, che lo condurrà, nel 1929, alla fondazione del Premio Viareggio.
Secondo alterne vicende scorrono gli Anni Trenta, tra la costrizione nel privato e le grandi opere celebrative, tra la forzosa adesione al fascismo e l'interna ribellione ad essa, che traspare dal suo mancato consenso al gruppo Novecento di Margherita Sarfatti e da altri episodi di non allineamento. Gli offre nuove prospettive solo l'impegno per il rinnovamento della scenografia del Teatro Lirico con il Maggio Fiorentino.
Con grande anticipo rispetto alla riscoperta ufficiale del movimento futurista che avverrà circa venti anni dopo, la ripresa di temi e sperimentazioni futuriste per Conti, inizia già negli Anni Quaranta. Un fatto che si deve sicuramente alla mai diminuita qualità della sua pittura e alla sua ben conosciuta autonomia rispetto ad indicazioni generali. Vero e proprio romanzo la sua vita riserva ancora un grande colpo di scena: la crisi mistica, che dal 1948 al 1963, lo fa assoggettare completamente alle regole del III Ordine Francescano, benchè seguiti a dipingere. Accostandosi all'ultima sua pittura non si può non tener conto di questo passaggio, al termine del quale, Conti è un uomo completamente rinnovato. Incontrando il proprio destino, invece che affaticandosi a dirigerlo, l'artista raggiunge l'identità tra sé e l'universo, tra l'io e il sé junghiano, una centralità della propria coscienza che è il più alto grado di possesso della propria vicenda. Anche la nascita della sua Fondazione, attraverso il dono della casa,dell'archivio e delle proprie opere, corona il rispecchiamento del destino del singolo nella dimensione collettiva, l'incontro tra la sua vicenda individuale e la storia di un'avanguardia che aveva sempre cercato la coincidenza tra l'arte e la vita, tra la cultura e la sua capacità di trasformare gli uomini e la società.
---
---
(English)
Primo Conti (October 16, 1900 —November 12, 1988) was an Italian Futurist artist. Conti was born in Florence. Between the ages of 8 and 9, he showed precocious talent in the fields of music, poetry and painting. In 1913 he met the Futurists.
His attraction to the latest innovations was expressed in almost completely Futurist forms in his drawings, while he developed a unique style in his painting that was a mixture of Art Nouveau, Fauvism, Expressionism and Orphism. It was not until 1917, after meeting with Giacomo Balla in Rome, and with Filippo Tommaso Marinetti in Naples (who later enthusiastically praised Conti's book Imbottigliature which was about to be printed) that Conti became part of the Futurist movement. His contribution to the movement was not only his literary works, but also the paintings and drawings he produced between 1917 and 1919—the years in which his work was taking on the metaphysical style.
The 1920s were a complex period for Conti. He explored Mannerism, Exoticism, Pittura Metafisica, and great historical and religious painting, covering a vast area that can be compared with his keen interest in the theatrical and literary world of Luigi Pirandello, Massimo Bontempelli and Enrico Pea, which led him to found the Viareggio Prize in 1929.
The 1930s brought a series of alternating events that created problems in his private life and led to his celebrative paintings. The decade also saw his enforced adhesion to Fascism (joining the Partito Nazionale Fascista), and his inner rebellion against it which transpired from his refusal to join Margherita Sarfatti's Novecento Italiano group and from other episodes when he stepped out of line. New prospects were only opened up to him when he became involved in designing stage sets for the opera house with the foundation of the Maggio Musicale Fiorentino.
By the 1940s, long before the official rediscovery (20 years later) of the Futurist movement, Conti was again working on Futurist subjects and experiments. From 1948 to 1963 he followed the rules of the Order of the Franciscans, though he still continued to paint.
Many of his works are housed in the Museo Primo Conti (Primo Conti Foundation Museum) in the Villa le Coste at Fiesole (near Florence).